Eamon Nash i Eberhard Brunner, Analog Devices

Direkcijski spojnici se koriste u širokom rasponu aplikacija za osjete RF snage i mogu se pojaviti na više točaka u signalnom lancu. U ovom ćemo članku istražiti ADL5920, novi uređaj s Analog Devices koji kombinira širokopojasni usmjereni premosnik na temelju mosta s dva rms odgovorna detektora u pakiranju površine od 5 mm x 5 mm. Ovaj uređaj nudi značajne prednosti u odnosu na konvencionalne diskretne usmjerne spojnice koji se bore s razmještajem između veličine i širine pojasa, osobito na frekvencijama ispod 1 GHz.
In-line mjerenja RF snage i povratnih gubitaka obično se provode pomoću usmjernih spojnica i RF detektora snage.
Na slici 1, dvosmjerni sprežnik se koristi u radiju ili testu i aplikaciji za mjerenje za praćenje emitirane i reflektirane RF snage. Ponekad je poželjno imati i RF monitoring snage ugrađen u krug, s primjerom gdje su dva ili više izvora uključeni u put odašiljanja (bilo pomoću RF sklopke ili s vanjskim kabelima).

Direkcijski spojnici imaju vrijedno obilježje usmjerenosti – to jest sposobnost razlikovanja incidenta i reflektirane snage RF. Budući da incidentni RF signal putuje kroz sprežnik naprijed na putu prema opterećenju (Slika 2), mali udio RF snage (obično signal koji iznosi 10 dB do 20 dB niži od signala koji je uključen) je spojen i upravlja RF detektorom. Gdje se mjeri i naprijed i reflektirana snaga, koristi se drugi sprežnik s obrnutom orijentacijom u odnosu na sprežnik naprijed. Signali izlaznog napona iz dva detektora bit će proporcionalni naprijed i obrnutoj snazi ​​RF snage.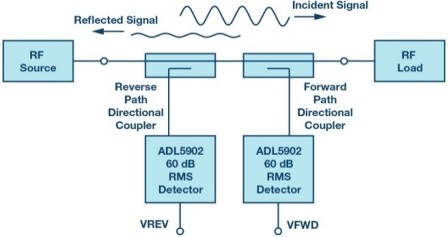 Poveznice za usmjeravanje na površini pate od temeljne razmjene između širine pojasa i veličine. Dok su dvosmjerni usmjerni spojnici s jednom oktavom frekvencijskog pokrivanja (tj. FMAX jednaki dvostrukom FMIN) obično su dostupni u pakiranjima manjim od 6 mm2, višekratna površinska montaža usmjerivača bit će mnogo veća (Slika 3). Širokopojasni spojni usmjereni spojnici imaju pokrivenost višekratnim frekvencijama, ali su znatno veći od površinskih uređaja.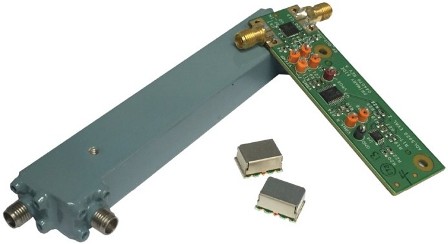 Slika 3 također prikazuje ploču za procjenu ADL5920, novog podsustava za otkrivanje RF snage s rasponom detekcije do 60 dB, pakiranim u MLF paket od 5 mm x 5 mm (ADL5920 IC se nalazi između RF priključaka). Blok dijagram za ADL5920 prikazan je na slici 4.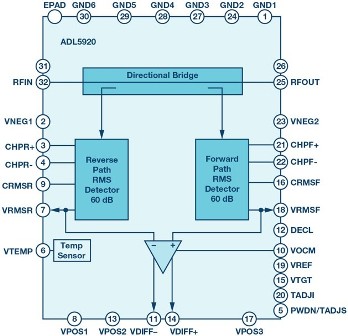 Umjesto da prepozna naprijed i reflektirajuće signale pomoću usmjerenih spojnica, ADL5920 koristi patentiranu tehnologiju usmjerene mosta kako bi se postigla širokopojasna i kompaktna spojka signala na čipu. Da bismo shvatili kako funkcionira smjenski most, moramo najprije zauzeti korak unatrag i pogledati na Wheatstoneov most.
Vitstanov most
Pojam usmjerenog mosta temelji se na Wheatstoneovom mostu (slika 5) koji stvara nultog diferencijalnog napona kada je uravnotežen. Na Wheatstoneovom mostu, jedan otpornik u jednoj od dvije noge je varijabilan (R2), dok su dvije druge (R1 i R3) fiksne. Ukupno su četiri otpornika – R1, R2, R3 i Rx – gdje je Rx nepoznat otpor. Ako je R1 = R3, onda kada je R2 jednak Rx, VOUT = 0 V. Most se smatra uravnoteženim kada je varijabilni otpornik točne vrijednosti tako da su omjeri razdiobe napona na lijevoj i desnoj strani mosta jednaki time stvoriti diferencijalni signal nulte volta preko difuzorskih čvorova koji proizvode VOUT.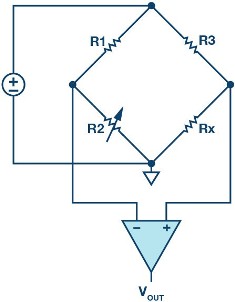 Jednosmjerni most
Slika 6 je shematski jednosmjerni most i najbolje objašnjava osnovni rad takvog uređaja. Prvo, važno je imati na umu da je usmjereni most trebao biti dizajniran za određeni Zo i da je gubitak umetanja minimiziran. Ako je RS = RL = R = 50 Ω, tada osjetni otpornik mosta iznosi 5 Ω, što je dobar kompromis između gubitka umetanja (<1 dB) i osjetljivosti signala. Izračunavanje ROUT-a kao što se gleda natrag od opterećenja rezultira točnom impedansom ulaza od 50 Ω, dok će izračunavanje RIN rezultirati impedancijom ulaza od 50,8 Ω (| Γ | = 0,008; RL = -42 dB; VSWR = 1,016). Ako se signal koristi kao što je prikazano na RFIP onda, od RIN ~ 50 Ω, napon na RFIP je oko polovice napona izvora. Ako pretpostavimo na trenutak da je napon na RFIP jednak 1 V, onda napon na RFOP će biti oko 0,902 V.
Ovaj napon dodatno je atenuiran 10/11 = 0,909 tako da negativni ulaz diferenciranog pojačala iznosi 0,82 V, a rezultirajući diferencijalni napon od (1 – 0,82) = 0,18 V. Efektivni faktor napajanja naprijed (Cpl) ovog mosta je

(1)
Balansiran u kontekstu mosta znači da kada se signal primjeni u obrnutom smjeru (RFOP do RFIP), VFWD detektor (ili Cpl priključak) idealno će vidjeti nultog diferencijalnog napona dok vidi maksimalni signal kada je signal primijenjen u smjeru naprijed (RFIP na RFOP). Da bi se postigla maksimalna usmjerenost u takvoj strukturi, precizni otpornici su od najveće važnosti i zato je njihova integracija korisna.
U jednosmjernom mostu, kako bi se odredila izolacija, koja je potrebna za izračun gubitka povratka, potrebno je okrenuti uređaj i primijeniti ulazni signal RFOP-u. U tom slučaju, most je uravnotežen, a plus i minus ulazi na diferencijalno pojačalo su jednaki, jer isti omjeri razdiobe 0.909 = (10R / (10R + R) = (R / (R + 0,1R)) rezultiraju diferencijalni napon od (V + minus V-) = 0 V.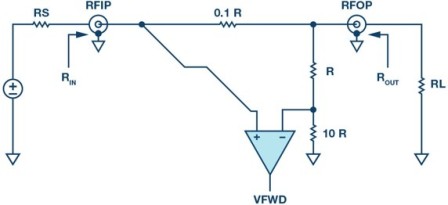 Dvosmjerni most
Slika 7 je pojednostavljeni dijagonalni dvosmjerni most, sličan onome koji se koristi u ADL5920. Otporna jedinica R jednaka je 50 Ω za 50 Ω okruženje. Tako je vrijednost senzorskog otpornika na mostu 5 Ω, dok su dvije šumske mreže svaka od oko 1,1 kΩ.
Ovo je simetrična mreža, tako da su ulazni i izlazni otpor, RIN i ROUT, jednaki i blizu 50 Ω kada su RS i RL također jednaki 50 Ω.
Kad su izvor i impedancija opterećenja 50 Ω, ohmska analiza unutarnje mreže govori nam da će VFWD biti prilično velik u usporedbi s VREV. U primjeni u stvarnom svijetu to odgovara maksimalnom prijenosu snage od izvora do opterećenja. To rezultira malom refleksnom snagom koja zauzvrat rezultira vrlo malim VREV.
Zatim, razmotrimo što se događa ako je RL beskonačan (otvoreni krug) ili nula (kratko opterećenje). U oba slučaja, ako ponovimo omičnu analizu, nalazimo da su VFWD i VREV približno jednaki. Ovo zrcalo stvarnom sustavu u kojem otvoreni ili kratki opterećenje rezultira izjednačenjem naprijed i reflektirane snage. U nastavku slijedi detaljnija analiza ovih scenarija.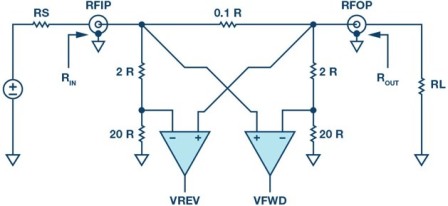 VSWR i koeficijent refleksije
Potpuna analiza pogrešaka u mrežnoj analizi prekomplicirana je i izvan dosega ovog članka, ali želimo ovdje sažeti neke od osnovnih pojmova. Odličan resurs je aplikacijska napomena Marki Microwave, Directivity i VSWR Mjerenja .1
Putujući valovi su važni koncepti za opisivanje napona i struja duž dalekovoda budući da su funkcije položaja i vremena. Opće rješenje napona i struja duž prijenosnih vodova sastoji se od naprijed putujućeg vala i obrnutog putujućeg vala, koji su funkcije udaljenosti x.2

(2)

(3)
U jednadžbi 2 i jednadžbi 3, V + (x) predstavlja naponski val koji putuje prema opterećenju, dok V- (x) predstavlja naponni napon koji se reflektira iz opterećenja zbog neusklađenosti, a Z0 je karakteristična impedancija dalekovoda. U prijenosnoj liniji bez gubitaka, Z0 je definiran klasičnom jednadžbom: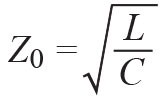 (4)
Najčešći Z0 je 50 Ω za prijenosne linije. Ako je takva linija prekinuta sa svojom svojstvenom impedancijom, čini se da je 50 Ω izvor kao beskonačna linija, jer bilo koji napon koji ide niz liniju neće rezultirati nikakvim refleksijama koje se mogu osjetiti na izvoru ili bilo gdje drugdje na liniji , Međutim, ako je opterećenje različito od 50 Ω, tada će se uzduž linije generirati stacionarni val koji se može detektirati i definirati omjerom napona stacionarnog vala (VSWR).
Općenitije, koeficijent refleksije definiran je kao:

(5)
gdje Γ0 je koeficijent refleksije opterećenja i γ konstanta propagacije dalekovoda.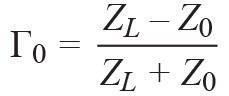 (6)
(7)

(8)
R, L, G i C su otpor, induktivitet, vodljivost i kapacitet po jedinici duljine prijenosne linije.
Gubitak povratka (RL) je negativan koeficijent refleksije (Γ) u dB. To je važno istaknuti kao koeficijent odzračivanja i gubitak povratka koji se često zbunjuju i koriste se naizmjenično.

(9)
Druga vrlo važna definicija gubitka povratka pored gore navedene neusklađenosti opterećenja je u smislu incidenta i reflektirane snage pri diskontinuitetu impedancije. Ovo je dano od strane

(10)
i široko se koristi u dizajnu antene. VSWR, RL i Γ0 odnose se na sljedeći način:

(11)

(12)

(13)
Jednadžba 14 i jednadžba 15 predstavljaju maksimalni i najmanji napon stacionarnih valova. VSWR je definiran omjerom maksimalnog do minimalnog napona duž vala. Maksimalni i minimalni naponi duž linije su

(14)

(15)
Na primjer, u 50 Ω prijenosnoj liniji, ako signal naprijed napajanja napona ima vršnu amplitudu od A = 1, a linija se podudara s savršenim opterećenjem, onda | Γ0 | = 0, nema stacionarnog vala (VSWR = 1,00), a napon vrha duž linije je A = 1. Međutim, ako je RLOAD 100 Ω ili 25 Ω, onda | Γ0 | = 0,333, RL = 9,542 dB, i VSWR = 2,00, s | V (x) | max = 1,333 i | V (x) | min = 0,666.
Slika 8 je replika na slici 7, ali sa signalima prikazanim u zadanoj konfiguraciji naprijed i s putujućim valovima koji pokazuju gdje je referentna ravnina kod opterećenja. Na niskim frekvencijama gdje je valna duljina dugačka u odnosu na fizičku strukturu, naponi i struje su u fazi, a krug se može analizirati prema Ohmovom zakonu.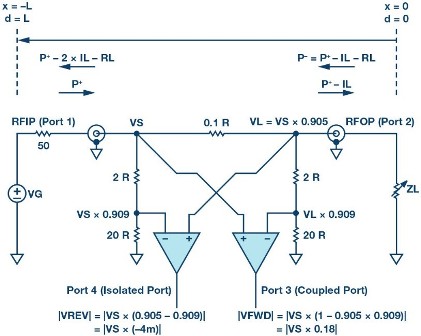 Portovi su definirani kao što je prikazano s ulaznim priključkom (Port 1) na RFIP, izlaznom priključku (Port 2) na RFOP, spojeni priključak (Luka 3) na VFWD i izolirani priključak (Luka 4) na VREV. Budući da je struktura simetrična, portovi se poništavaju kada se signal odražava na ZL ili primjenjuje na RFOP.
U slučaju odgovarajućeg opterećenja i napona generatora priključenog na priključak 1 (RFIP) i ZS = ZL = Z0 = R = 50 Ω,

(16)

(17)
i VL / VS + je gubitak umetanja, LI ili IL u dB.

(18)
Faktor prigušenja za dvije noge skače na obje strane otpornika glavnog linka od 0,1 × R

(19)
Jednadžbe na slici 8 za | VREV | i | VFWD | pokazuju vrijednosti za te napone pomoću signala koji se primjenjuje u smjeru naprijed. Ove jednadžbe ukazuju na osnovnu granicu usmjerenosti za pojednostavljeni shematski zbog odbacivanja nestalih na izoliranoj luci od 33 dB.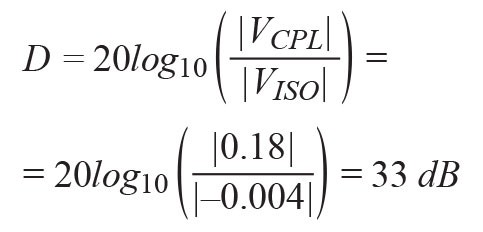 (20)
Iz slike 8 možemo vidjeti da je usmjerenost dvosmjernog mosta u linearnoj domeni određena pomoću

(21)
što pokazuje da za povećanje usmjerenosti, α mora biti jednak gubitku umetanja, LI.
U siliciju, usmjerenost vrha je tipično bolja od pojednostavljenog dijagrama (slika 9).
Ako ZL nije jednak ZO, kao što je normalno slučaj, spojeni i izolirani naponski naponi, koji su složeni, bili bi

(22)

(23)
gdje je VS + naponski napon na Port 1 (čvor VS) i VL- je odrazeni napon od opterećenja na Port 2 (čvor VL). Θ je nepoznata faza odraženog signala,

(24)
Zamjenjujući (24) za VL-u (22) i (23) i koristeći (21) pojednostaviti rezultat, plus činjenicu da

(25)
rezultira složenim izlaznim naponom

(26)

(27)
Od (26) i (27) možemo primijetiti da za DL >> 1,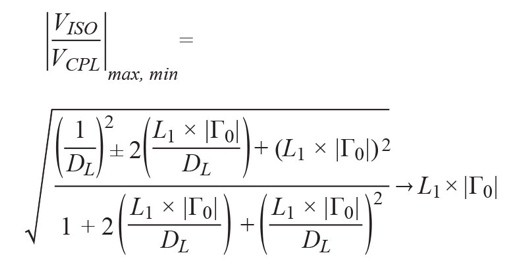 (28)
U ADL5920 su naponi VREV i VFWD mapirani preko dva linearna u dB rms detektoru od 60 dB u naponima VRMSR i VRMSF koji su (VISO / VSLP) i (VCPL / VSLP) u dB. Dakle, diferencijalni izlaz uređaja VDIFF u dB predstavlja

(29)
gdje je VSLP, nagib detekcije, oko 60 mV / dB.
Korištenjem mapiranja napona do dB (29) u (28)

(30)
Upotrebljava se jednadžba 9 u jednadžbi 30
(31)

(32)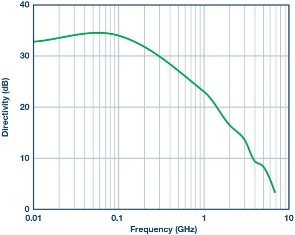 Slika 10 prikazuje odgovor senzora rms detekcije napajanja naprijed kada se ADL5920 pokreće u smjeru naprijed. Svaki trag odgovara izlaznom naponu prema frekvenciji za određenu razinu snage koja se primjenjuje. Dok se parcela zaustavlja na 10 MHz, provjereno je rad na frekvencijama do 9 kHz. Na Slici 11 isti su podaci prikazani kao izlazni napon i ulazna snaga s svakim tragovima koji predstavljaju različitu frekvenciju.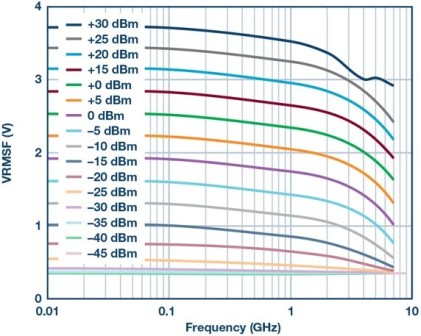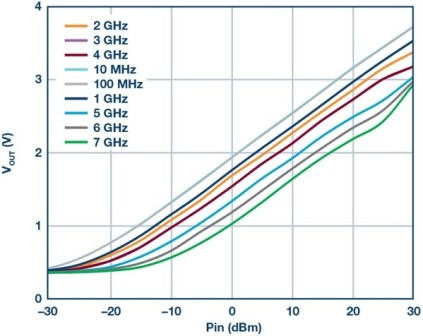 Kada je RFOUT pin ADL5920 završen s otpornikom od 50 Ω, ne bi trebalo biti reflektirajućeg signala. Prema tome, detektor obrnutog puta ne bi trebao registrirati nikakvu otkrivenu inverznu snagu. Međutim, budući da je usmjerenost kruga nevidljiva i pomiče se prema frekvenciji, neki će signal biti prepoznat u obrnutom putu. Slika 12 prikazuje napon mjeren na detektorima naprijed i natrag na 500 MHz kada je RFIN swept i RFOUT završava s 50 Ω. Okomito razdvajanje ovih tragova odnosi se izravno na usmjerenost mosta.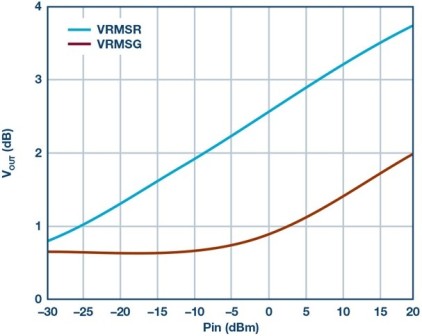 Slika 13 prikazuje učinak promjene opterećenja na mjerenje naprijed snage. Određene razine snage se primjenjuju na ulaz RFIN i povratak gubitka opterećenja na RFOUT varira od 0 dB do 20 dB. Kao što se i očekivalo, kada je povratni gubitak u rasponu od 10 dB do 20 dB, točnost mjerenja snage je prilično dobra. No, budući da se povratni gubitak smanjuje ispod 10 dB, pogreška mjerenja snage počinje se povećavati. Značajno je da za gubitak od povratne vrijednosti od 0 dB, pogreška je još uvijek samo u duljini 1 dB.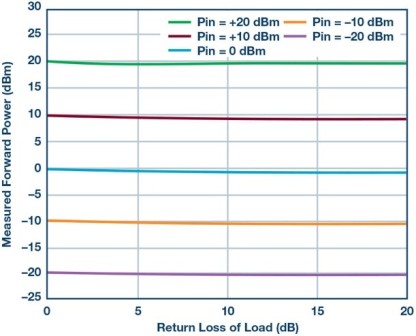 Na slici 14, ADL5920 se koristi za mjerenje gubitka povratnog opterećenja, također na 1 GHz. Poznati povratni gubitak primjenjuje se na RFOUT priključak. VRMSF i VRMSR izmjereni su i izračunati povratni gubitak.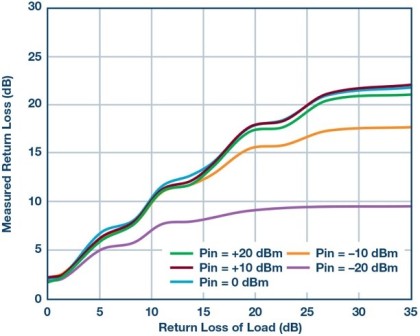 Postoji nekoliko točaka koje treba zapamtiti o ovoj zemlji. Kao prvo, može se vidjeti da sposobnost ADL5920 za mjerenje gubitka od povratka degradira kako se povratni gubitak poboljšava. To je zbog usmjerenosti uređaja. Drugo, imajte na umu kako točnost mjerenja pada dok snaga pogona padne. To je zbog ograničenog raspona detekcije i osjetljivosti detektora ADSL5920 na unutarnjim izlazima. Treće opažanje odnosi se na prividno upadanje u tragove. To je uzrokovano činjenicom da se svako mjerenje izvodi u jednoj fazi povratnog gubitka. Ako je mjerenje ponovljeno pri svim gubitku povratka faze će rezultirati obiteljom krivulja čija bi vertikalna širina bila otprilike jednaka vertikalnoj širini valovitosti.
Aplikacije
S mogućnošću mjerenja inline RF snage i gubitka povratka, ADL5920 je koristan za više aplikacija. Njegova mala veličina znači da se može spustiti u mnoge krugove bez značajnog utjecaja na prostor. Tipične primjene uključuju praćenje snage RF u snazi ​​u RF frekvencijama do 30 dBm, gdje gubitak umetanja nije kritičan. Mjerenje mjerenja povratnog gubitka obično se koristi u aplikacijama gdje se prati RF učitavanje. To bi mogao biti jednostavan krug za provjeru da nije oštećena ili prekinuta antena (tj. Katastrofalna neuspjeh). Međutim, ADL5920 se također može koristiti za mjerenje skalarnog gubitka povratka u aplikacijama za analizu materijala. Ovo je najčešće primjenjivo na frekvencijama ispod približno 2,5 GHz, gdje je usmjerenost (a time i točnost mjerenja) veća od 15 dB.
ADL5920 je dostupan za procjenu u dva faktora oblika, kao što je prikazano na slici 15. Lijeva strana prikazuje tradicionalnu ploču za procjenu gdje su izlazni naponi detektora dostupni na vodilicama i SMA priključcima. Ova ploča za procjenu također uključuje kalibracijski put koji se može koristiti za kalibriranje gubitka umetanja FR4 ploče.
Desna strana prikazuje integriranija ploča za procjenu koja uključuje 4-kanalni, 12-bitni ADC (AD7091R-4). Ova ploča za procjenu priključuje se na ploču Analog Devices SDP-S USB sučelja i uključuje računalni softver koji izračunava RF snagu i gubitak povrata i uključuje osnovnu rutinu za kalibraciju napajanja.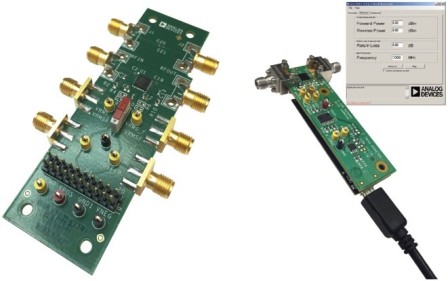 Reference
>
1 Doug Jorgesen i Christopher Marki. Izravnost i VSWR Mjerenja: Razumijevanje mjerenja gubitka povrata ​​em>. Marki Microwave, 2012.
2 Guillermo Gonzalez. Analiza mikrovalnih tranzistorskih pojačala i dizajn . Prentice-Hall, 1984.
3 Eamon Nash. " Razumijevanje, funkcioniranje i povezivanje s integriranim RF detektorima temeljenim na diodi ." Analog Devices, Inc., studeni 2015.
Izvori
Zahvaljujemo Steve Boyleu za promišljene rasprave i konstruktivne inpute, a Rob Hicks za izradu odbora za procjenu. Nadalje, zauvijek smo dugujemo Petru Kearneyju za sva njegova mjerenja.
Autori
Eamon Nash [eamon.nash@analog.com] je direktor za inženjere aplikacija na Analog Devices. Radio je na Analog Devicesu 28 godina u raznim poljskim i tvornicama koje pokrivaju mješovite signale, preciznost i RF proizvode. Trenutno radi u ADI-inoj RF Products Group, specijaliziranoj za mjerenje RF snage, radarskom rasporedu polja i milimetarskom valnom slikanju. Diplomirao je elektroniku iz sveučilišta u Limericku, Irska.
Eberhard Brunner [eberhard.brunner@analog.com] je viši inženjer projektiranja na Analog Devices, s tvrtkom B.S.E.E. od UC Berkeley (1988) i M.S.E.E. iz Instituta za poslijediplomski studij iz Oregona (1995). On je i student Sveučilišta Santa Clara. Nakon diplome iz UC Berkeleyja, radio je za Harris Farinon, mikrovalna radio tvrtka, kao inženjer modnog dizajna. Godine 1991. preselio se u Oregon i pridružio se sjeverozapadnim laboratorijima Analog Devicesa, priopćavajući ADI Fellow Barrie Gilbert. Od ovog je puta radio kao tehničar i inženjer za aplikacije, u inženjerskoj podršci proizvoda, marketingu i uglavnom dizajnu. Njegova područja stručnosti su nelinearni analogni dizajn, RF detekcija snage, medicinske slike, i mikrovalna dizajna. Trenutno radi u dizajnu grupe Power over Ethernet (PoE) u Santa Barbari, CA. Ima 10 izdanih patenata.